5 Reasons Why You Need a Bespoke Outdoor Kitchen This Summer
Nothing beats dining al fresco in the comfort and serenity of your own garden, and you could with your own bespoke outdoor cooking area. Now is the perfect time to consider how to get the most from your outdoor space this season, and if the last few years have taught us anything, it's that we should make the most of our time outside. With the right approach, you can have a stunning area to enjoy the long summer evenings. From simple barbecue stations to garden dining sets, we have some great outdoor kitchen design ideas to get you started. Here's why you need a bespoke outdoor kitchen this summer.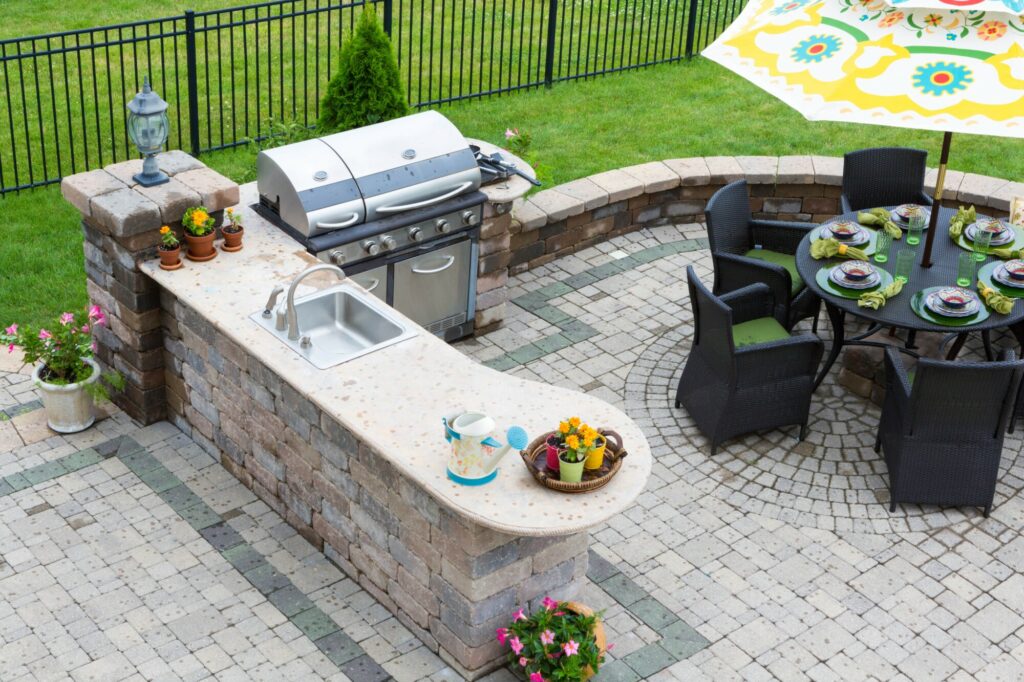 The Perfect Place to Entertain Guests
First and foremost, an outdoor kitchen is the perfect place to entertain or throw a party. And with the right outdoor cooking area, your party will be memorable for all involved. Guests can mingle around the BBQ to chat while you prepare the food. Others can relax in your comfortable seating area, cocktails in hand. Patio heaters and comfortable furniture can create the perfect atmosphere, and as your evening progresses, we guarantee that your guests will not want to leave.
Increase the Size of Your Living Space
Cooking in an indoor kitchen and can often feel hot and stuffy with not a lot of fresh air and space, especially in the summer months. Outdoors, cooking becomes a social event that everyone can enjoy. Outdoor kitchens need plenty of seating space and design is key, so you do need to plan ahead. At Manor Design, we provide a fully bespoke service so your outdoor kitchen design is unique to your garden space.
Save Money and Lower Your Bills with Your Outdoor Cooking Area
An indoor kitchen creates a lot of heat and we end up struggling to cool our kitchens down. An outdoor kitchen keeps the heat outside so you can enjoy the summer breeze instead of a fan or air-con unit. Cooking on a BBQ grill will also save you money on electricity bills. Moreover, enjoying the light from the long summer evenings is cost-effective and makes for a pleasant environment.
Increase the Resale Value of Your Home
While the main purpose of your outdoor kitchen is to enjoy the summer months, there are other long-term benefits too. Just like a pool or garage, adding outdoor amenities increases the value of your home. Every location is different, so having a good outdoor kitchen design is essential. With the right planning, it can become a versatile space, and you can add more appliances anytime. And each time you do, your investment will add value to your home.
Is an Outdoor Cooking Area Suitable in the UK?
Absolutely! But you need to plan your outdoor cooking area wisely. Your structure should shield you from the sun, but also the inevitable rain. Our expert design team is on hand to help you create your ideal outdoor kitchen area, and a bespoke outdoor cooking area means you can use your space to its fullest potential. Contact us today to discuss your ideas and get the most out of the coming summer.